Chablis Vaucoupin Wine
Vaucoupin is a Premier Cru vineyard site in the south of the Chablis wine region. Thisclimat is distinguished from the surrounding countryside by very steep slopes and pockets of high-quality Kimmeridgian soil, which have justified its delimitation as a Premier Cru vineyard. The Chardonnay based wines made here have rich, nutty flavors that are balanced with taut acidityand intense minerality.
The 100-acre (40ha) vineyard lies in an east-west oriented valley on the eastern banks of the Serein river. The village of Chichee is nearby and Chablis town itself is about 2.5 miles (4km) to the north.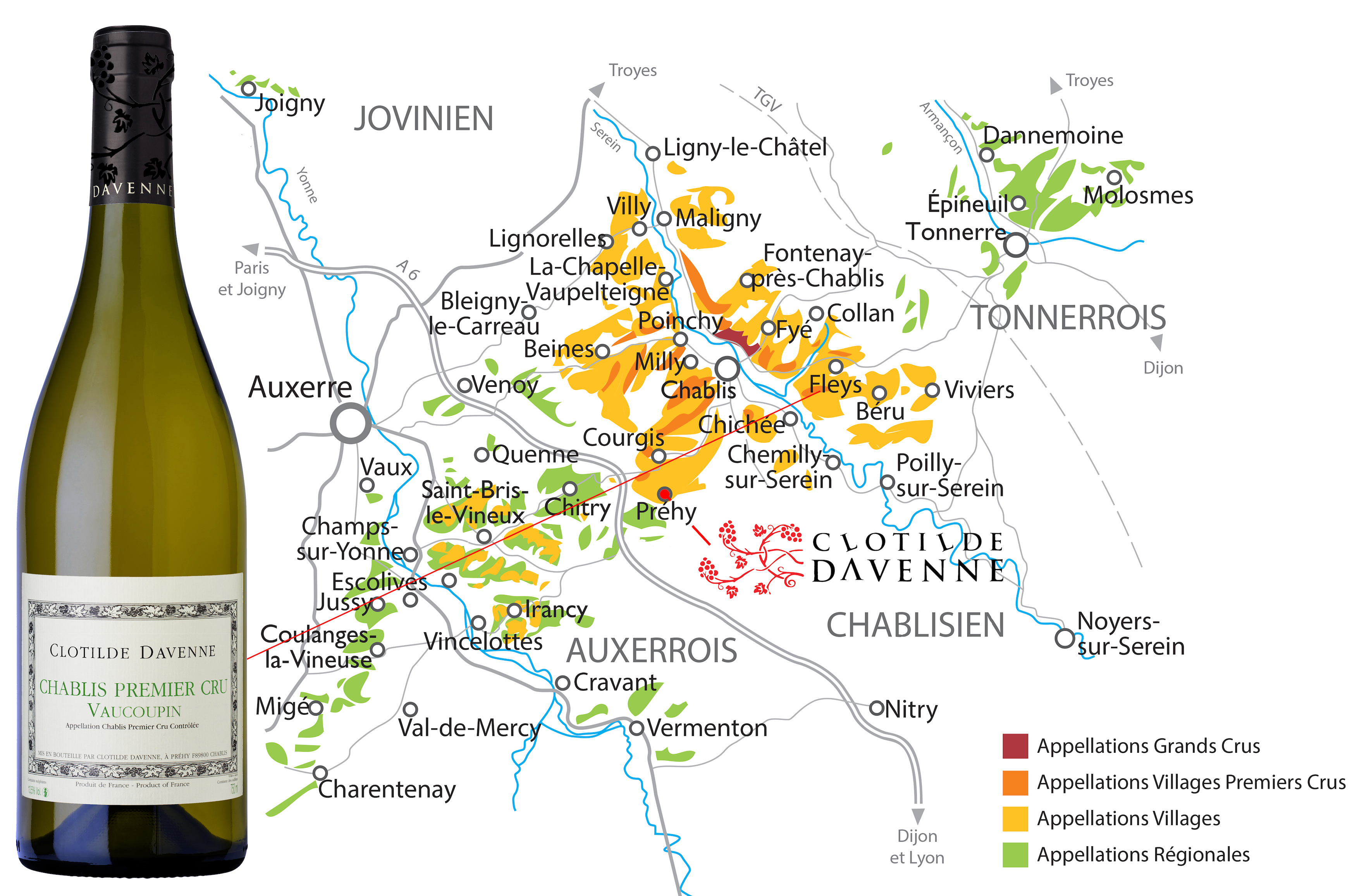 A Vaucoupin wine label
The Vaucoupin climat's defining feature is its steepness. Here, the land rises sharply from the valley below, offering growers a south-facing slope with efficient sunlight exposure. As such, grapes have a chance to reach perfect levels of ripeness prior to harvest, while retaining their essential acidity. This slope, however, comes with its challenges: parts of the vineyard are too steep to be tended by machine, and vignerons must harvest by hand, a slow and expensive process.
The Kimmeridgian soil that is found throughout Chablis is present in the Vaucoupin terroir. This soil, rich with marine fossils that contribute to the high levels of limestone, is free draining and low in fertility, offering an excellent base for vines. By curbing vigor  and vield, the dry, stony soils force the plant into producing small, concentrated berries that are excellent for winemaking. Soil textures vary across Vaucoupin, offering up different influences on the developing grapes.
The Vaucoupin vineyard has no smaller Premier Cru vineyards associated with it (as is the case in Fourchaume  or Vaillons), but is separated into two smaller lieux-dit ; Vaucoupins and Adroit de Vaucoupins.