Chablis is an historic wine-producing village and region in northern central France . It produces light, dry, white wines famed for their flinty minerality and crisp acidity. AOC Chablis wines are produced exclusively from the Chardonnay grape variety.
Chablis wines are made in a style rather different from those produced elsewhere in Burgundy. They are drier and fresher, rather than more weighty and richly flavored. Most basic Chablis is fermented and aged in stainless steel, with use of oak barrels more common in higher-level wines, though used larger barrels are more likely to be employed than new barriques, and wines will spend a shorter time in them than in the Côte d'Or.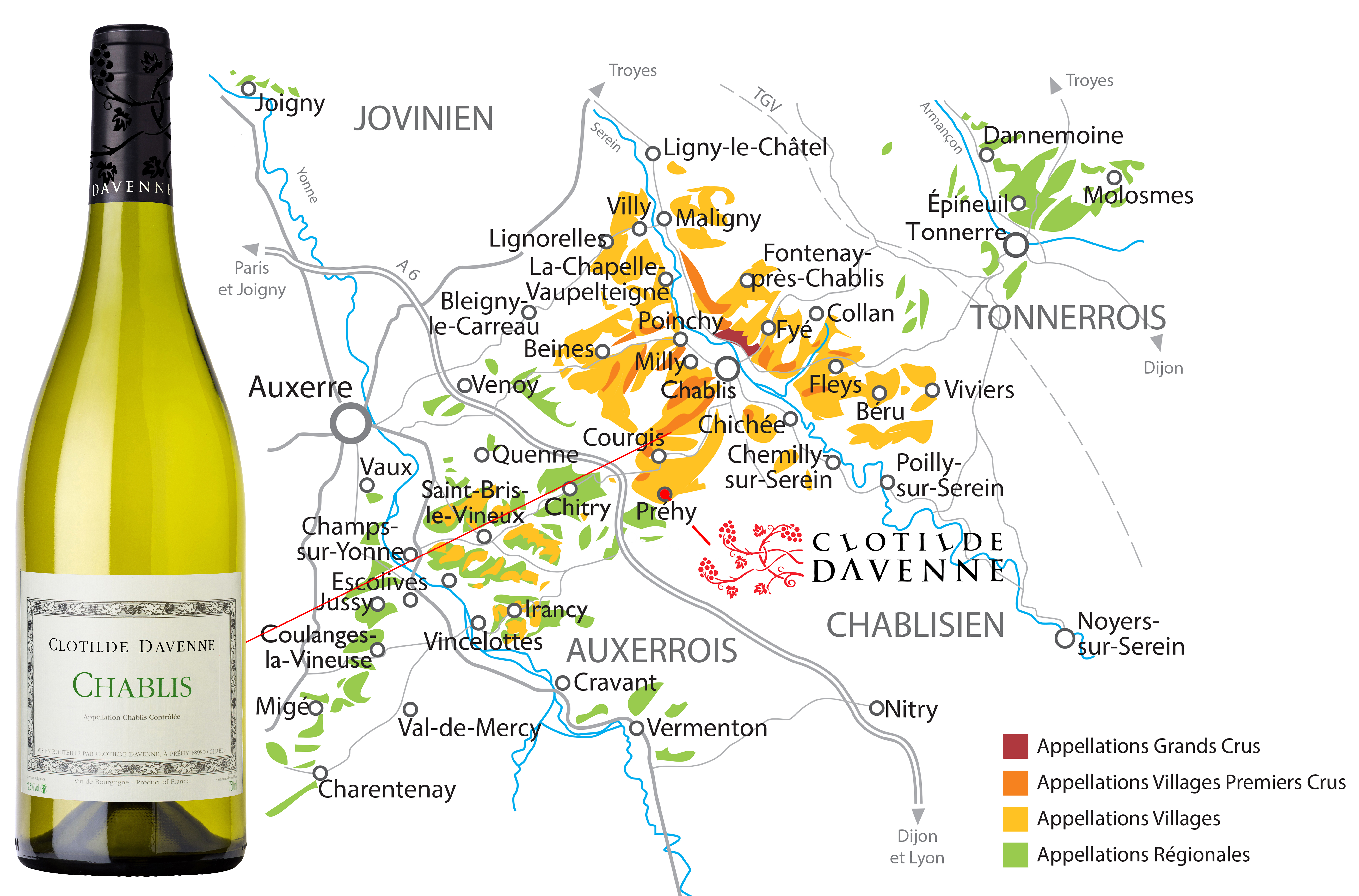 The town and its vineyards are located a considerable distance (more than 100 kilometers/60 miles) northwest of Burgundy's main wine-producing areas from the Côte de Nuits to the Maconnais. They are in fact closer to Sancerre (Loire) and Les Riceys (southern Champagne) and the city of Paris. Consequently, Chablis has a cooler climate than the rest of Burgundy, and similar vineyard macroclimates to Champagne.
Politically and administratively, Chablis is located in northern Bourgogne, although it lies in the department of the Yonne rather than the Côte D'Or. It was a relatively late addition to the Duchy of Burgundy in the 15th Century and locals do not necessarily identify as Burgundian. Despite all of these differences, the wines of Chablis tend to be classified as part of Burgundy by most retailers and other wine professionals.
The effects of terroir on wine can be seen more clearly in Chablis than almost anywhere else. A key division within Chablis lies between terroirs with Kimmeridgian soils and those with Portlandian soils. Kimmeridgian soil is more highly regarded; it contains greater levels of mineral-rich clay, as well as the essential marine fossils which are responsible for its significant lime content. Kimmeridgian soils are the source of the trademark minerality in premier and grand cru wines from Chablis. By contrast, Portlandian soils are not so rich in clay and fossils, which results in slightly fruitier wines with a less mineral profile. Petit Chablis wines are most often grown in Portlandian soils.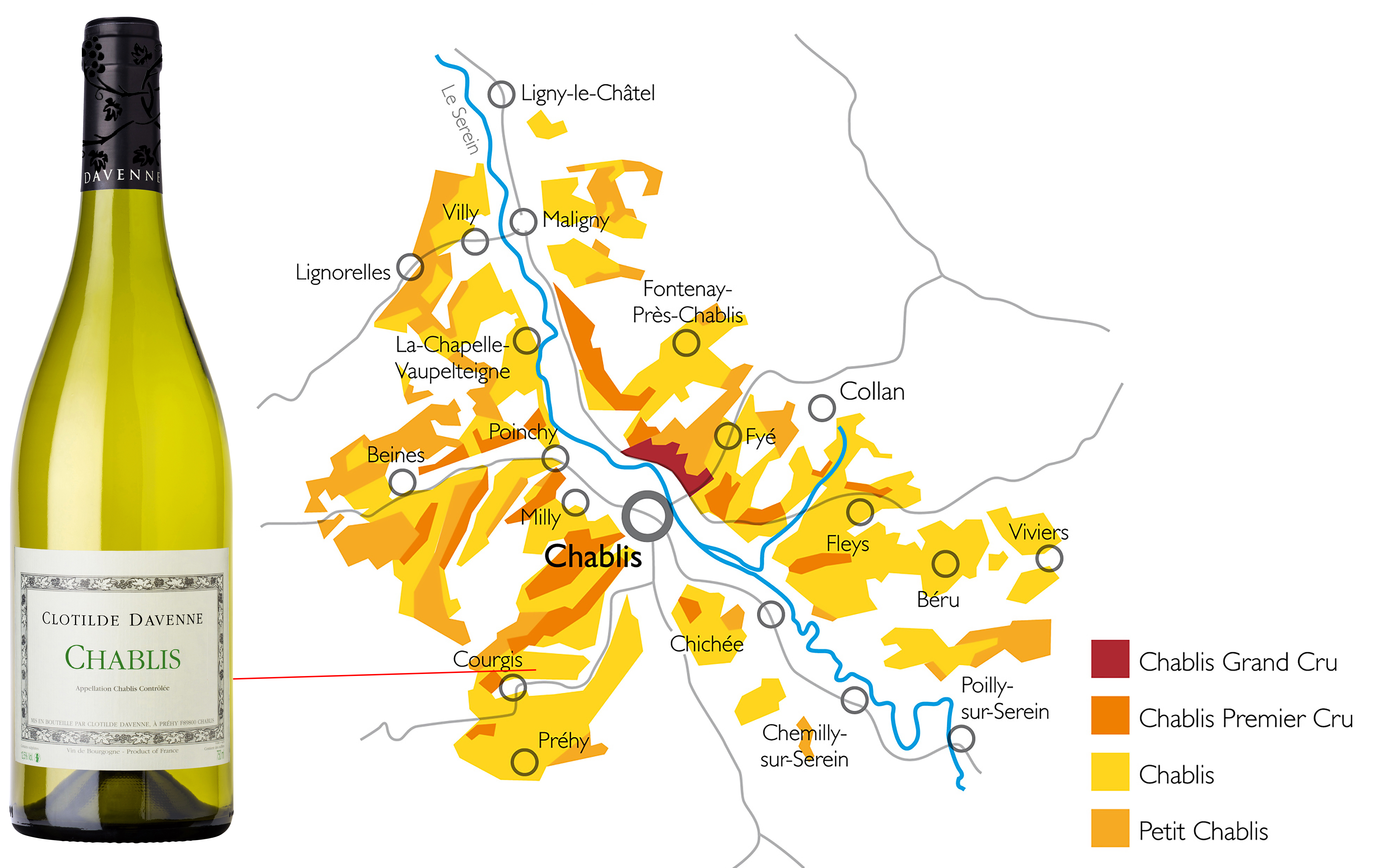 The vineyards of Chablis are classified into four tiers of quality. Starting from the top, they are: Chablis Grand Cru, Chablis Premier Cru, Chablis and Petit Chablis. Wines which conform to the general Chablis appellation laws may claim the classification held by the vineyard where they were grown.
The appellation AOC  Chablis is the most prolific and geographically widespread of the four classifications. It was created in 1938 – at the same time as the Chablis Grand Cru appellation – to protect the Chablis name, which was being used around the world to describe wines bearing little resemblance to the real Chablis. Today, all wines carrying the Chablis title are dry whites made exclusively from Chardonnay. They must be produced from vineyards in a specifically designated area surrounding Chablis town and its nearby villages.
Chablis 1er Cru is not a distinct appellation like the other three classifications, but rather a quality sub-division of the standard AOC Chablis title. Its geographical coverage is significantly larger than that of Chablis Grand Cru. There are 40 climats  (vineyard sites) around Chablis which are deemed worthy of the premier cru title, and these are further subdivided into roughly 80 specific vineyards. The wines produced under this title are made according to quality controls that are halfway between those of the Chablis and Chablis Grand Cru appellations.
Chablis Grand Cru wines are produced from just 100 hectares (250 acres) of vineyards planted on gentle southwest-facing slopes at the eastern edge of the town. There are seven named Grand Cru climats. Running from north to south along the Serein river they are: Preuses, Bougros, Vaudesir, Grnouilles, Valmur, les Clos and Blanchots. Wines claiming the Grand Cru title are made under stringent regulations; the maximum permitted vield is lower than for standard Chablis, and the minimum potential alcohol  one degree higher. Chablis Grand Cru wines respond well to bottle aging for between 10 and 15 years.


Petit Chablis is the least prestigious of the Chablis appellations. It was created in 1944 to cover the lesser-rated vineyard sites in the area, generally located on plateaux above the premier cru or grand cru sites. Because they are more exposed to wind, and are not angled towards the afternoon sun, these sites do not benefit from the same climatic and geological advantages as the better vineyards, and produce less complex, less refined wines.
Just 8 miles (13km) southwest of Chablis lie two villages with their own wine styles and appellations. These are Irancy (Pinot Noir and César) and  Saint-Bris (Sauvignon Blanc).