Finishing Fabulous France at Clotilde Davenne Winery
Part 4 of Edward Keirsh's adventure to France during Ryder Cup Paris was bustling with fashionistas, and that was to be expected since it was Fashion Week, a time to celebrate Dior, Armani, Hermes and Tom Ford. Not a time to celebrate the Ryder Cup which was more my fashion - so I decided to leave Paris for one more day in Burgundy - to drink great wine and to decompress from all the pastries and rich food I was eating.
Bourgogne and its amazingly remarkable small towns like Noyers and Vezelay were certainly more my style. But with limited time before my return trip hope I drove to relatively nearby Chablis.
Packing my clubs for another day, and after negotiating many small roads, I ultimately arrived at a vineyard named after owner Clotilde Davenne, a small winery not far from the magical towns of Irancy and Vezelay.
There was no golf course nearby, but the lunch in the vineyard owned by Ms Davenne, a woman whose passion for terroir and grapes compelled her to produce a wonderful Saint Bris a few years ago, was magnificent.
"We produce about 250,000 bottles a year after my being here about 12 years," says Ms. Davenne, who is strikingly charming and soft-spoken. "It was a big risk my getting into the wine business, a woman in a man's world. But I am my own boss, and I love what I do."
Sitting together in a small building near the fermentation vats, we enjoyed a wonderful lunch with homemade dishes next to her workers, and the smell of grapes was intoxicating.
"I want to make wine expressive of fruit, and this year has been a fabulously productive harvest," adds Davenne. "Years like this one make me forget the bad years."
Davenne's passion for her grapes is infectious. Her feeling are so obvious, so charged with satisfaction, I can easily forget the gorgeous fashionistas in Paris, forget my not being close to the Ryder Cup action - and so memorable I forgot I was going home soon. Davenne, like France, was enthralling
TERRE DES VINS - April 2023 Hors les murs by Clément L'Hôte
Terre de Vins is the magazine for all the wines of France and the world. It offers encounters, discoveries, walks in the heart of vineyards, good addresses combining gastronomy and wine, with a particular focus on sustainable development, which concerns the entire French wine industry.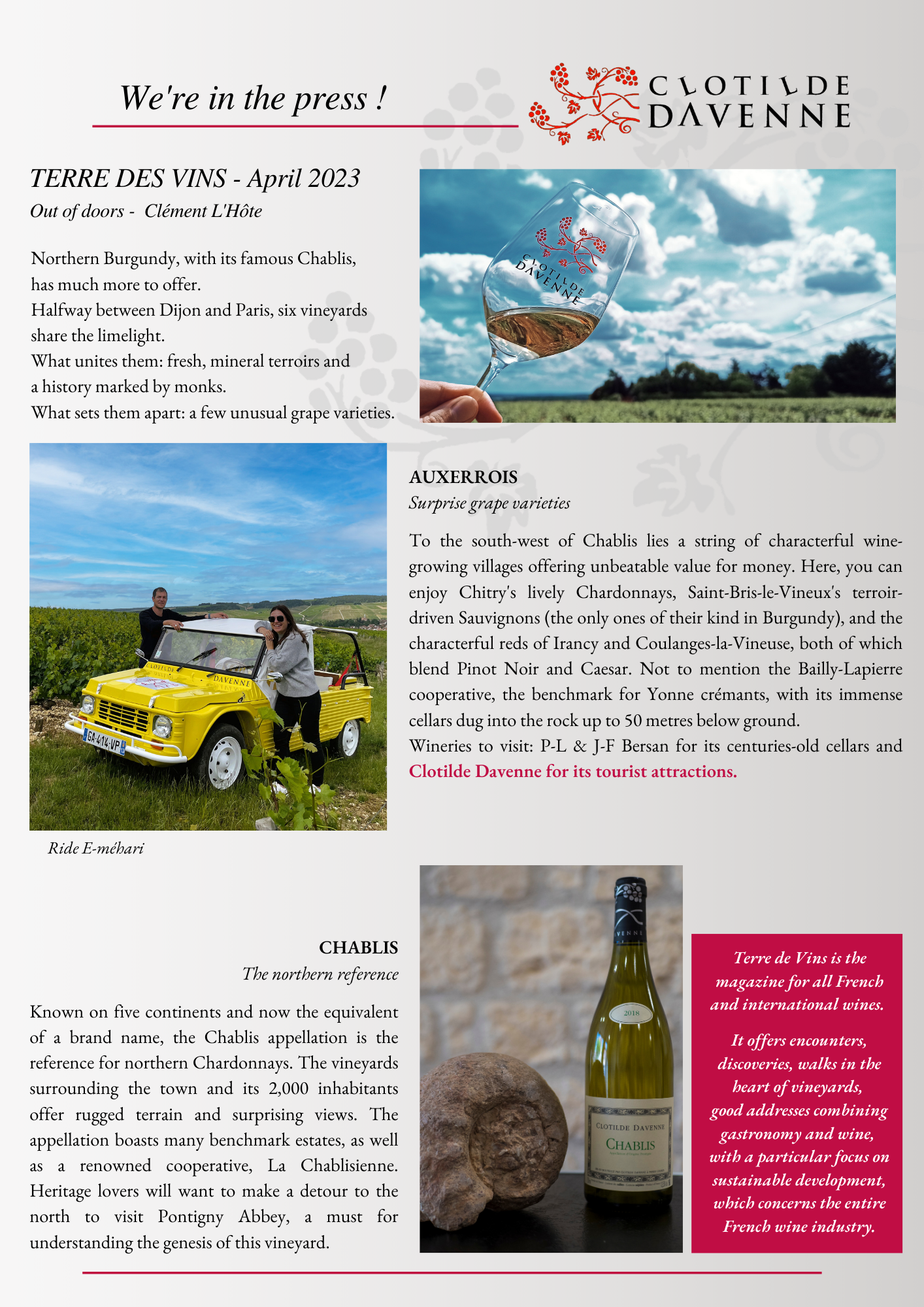 Weinwisser - April 2023 - André Dominé
WeinWisser is the leading German-language wine and tasting magazine for wine experts and savvy wine lovers. The team of 12 expert authors systematically tastes, describes and evaluates more than 4,000 top wines from all over the world each year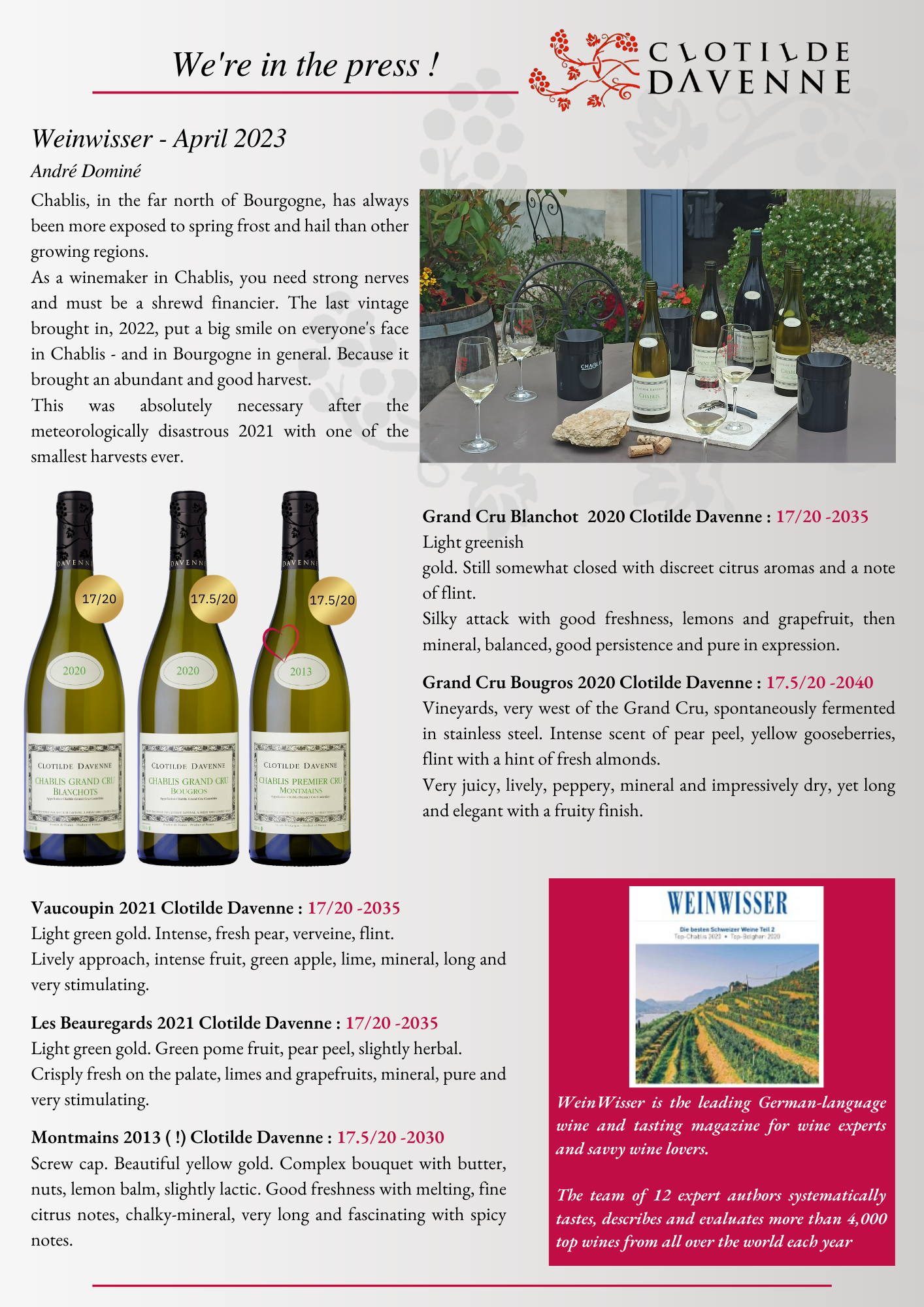 Jasper Morris Inside Burgundy february 2023
Jasper Morris, a British wine merchant, holds the coveted Master of Wine diploma, awarded following an examination which, with 8 passes per year, is considered to be one of the most difficult in the world. A wine merchant for the London firm BBR (Berry Bross & Rudd), he developed a passion for Burgundy wines and settled in the region.
Since 1981, he has been exploring its estates and terroirs, giving him unrivalled expertise on the wines, their birthplaces and the men and women who make them.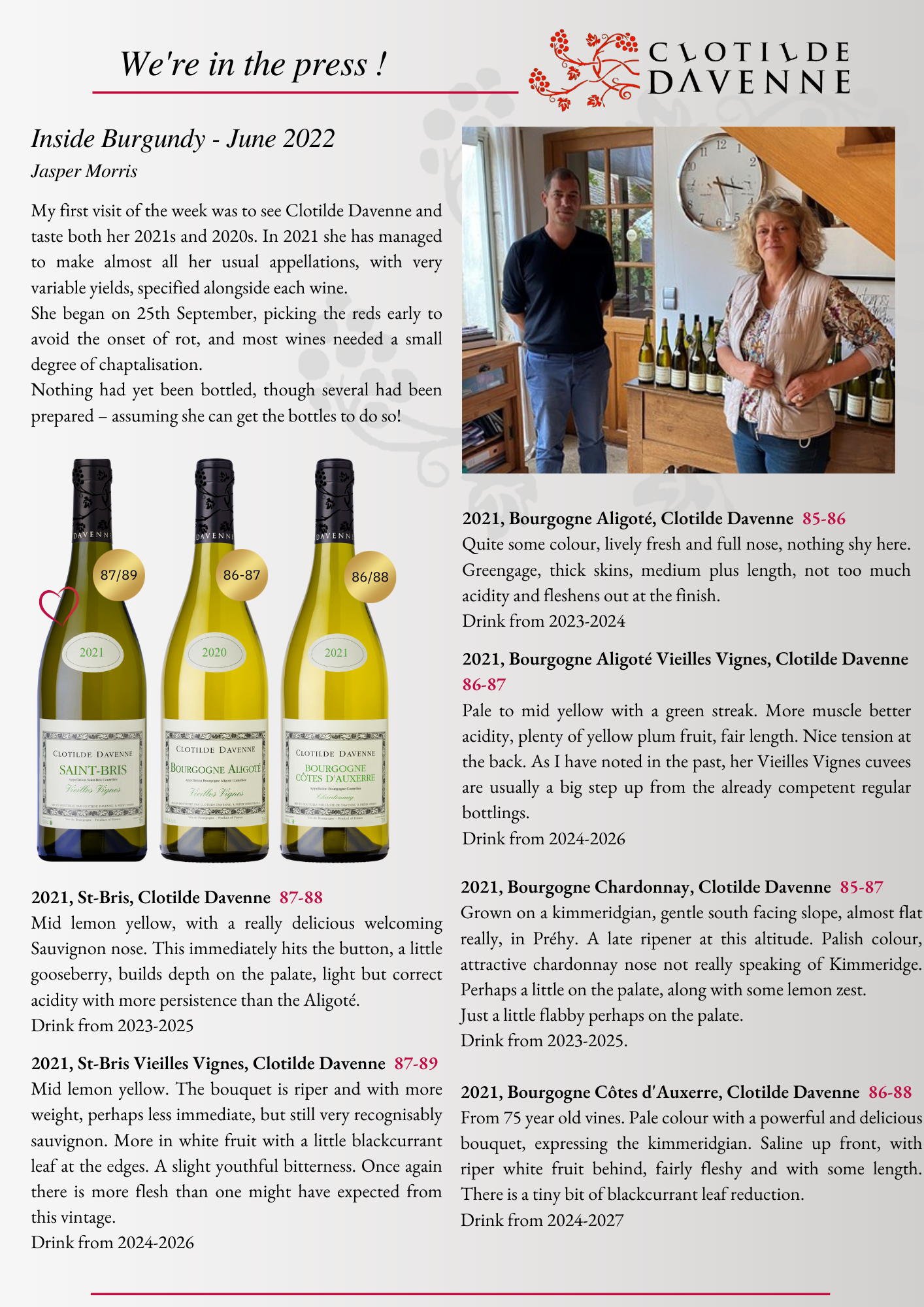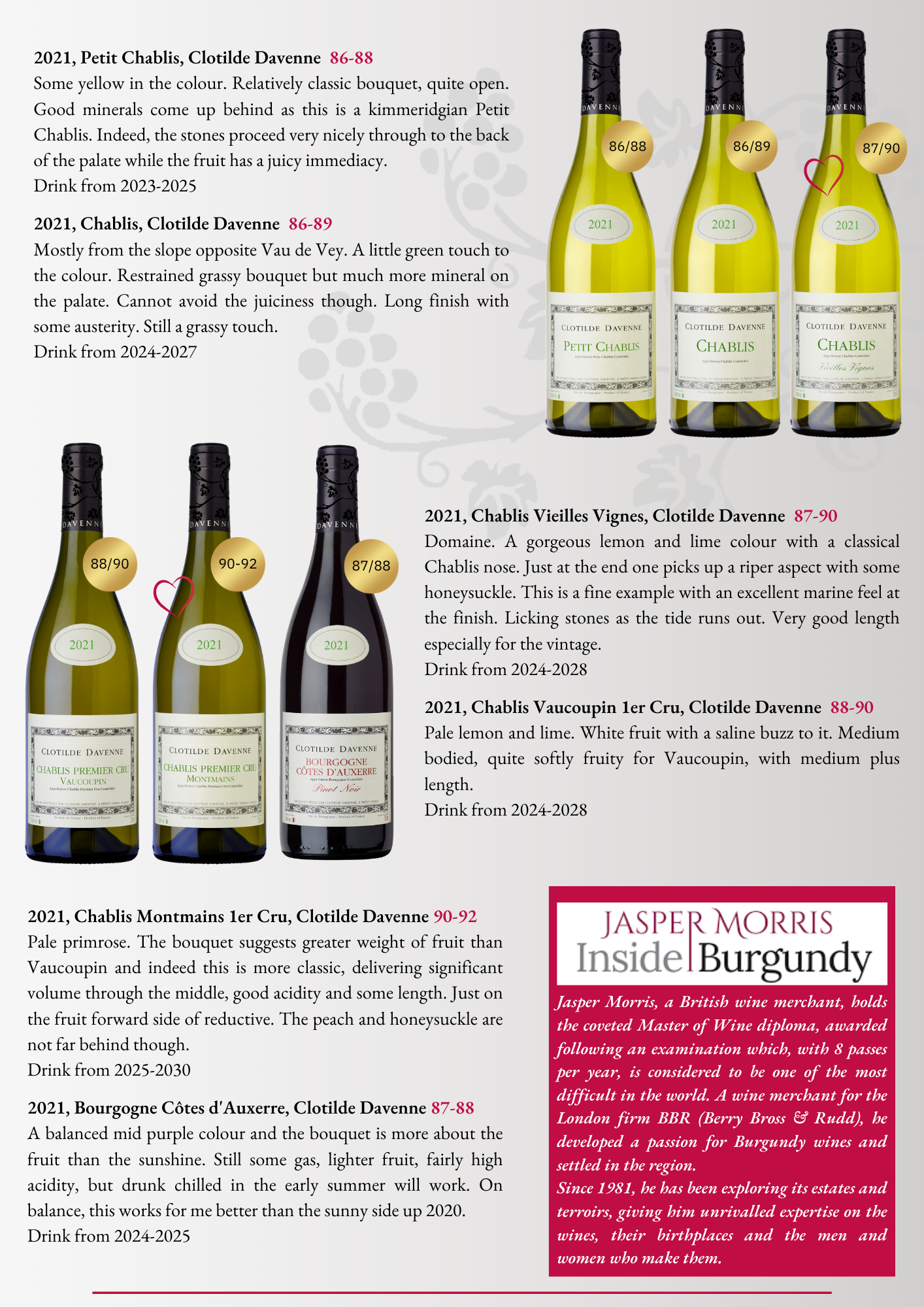 Michael Apstein Review february 2023
Prominent wine reviewer Dr. Michael Apstein—who curates his own wine review website "Apstein on Wine" as well as contributes a column to Wine Review Online—
recently sampled three of our latest releases. He filed the same review article on both sites.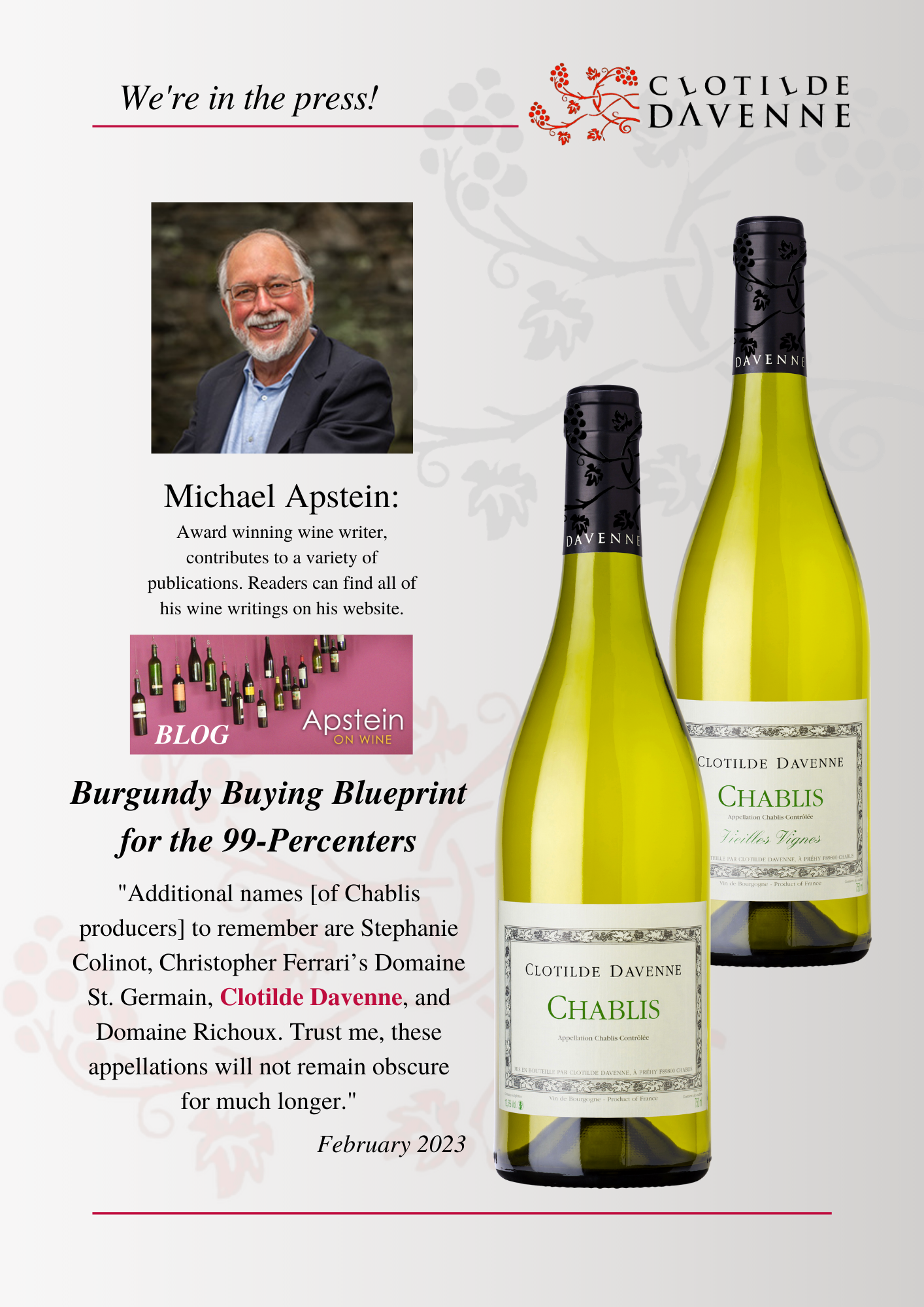 Jancis Robinson.com january 2023
A British Master of Wine critic of wines worldwide, wine journalist and writer of Oxford Companion to Wine and L'Atlas Mondial du vin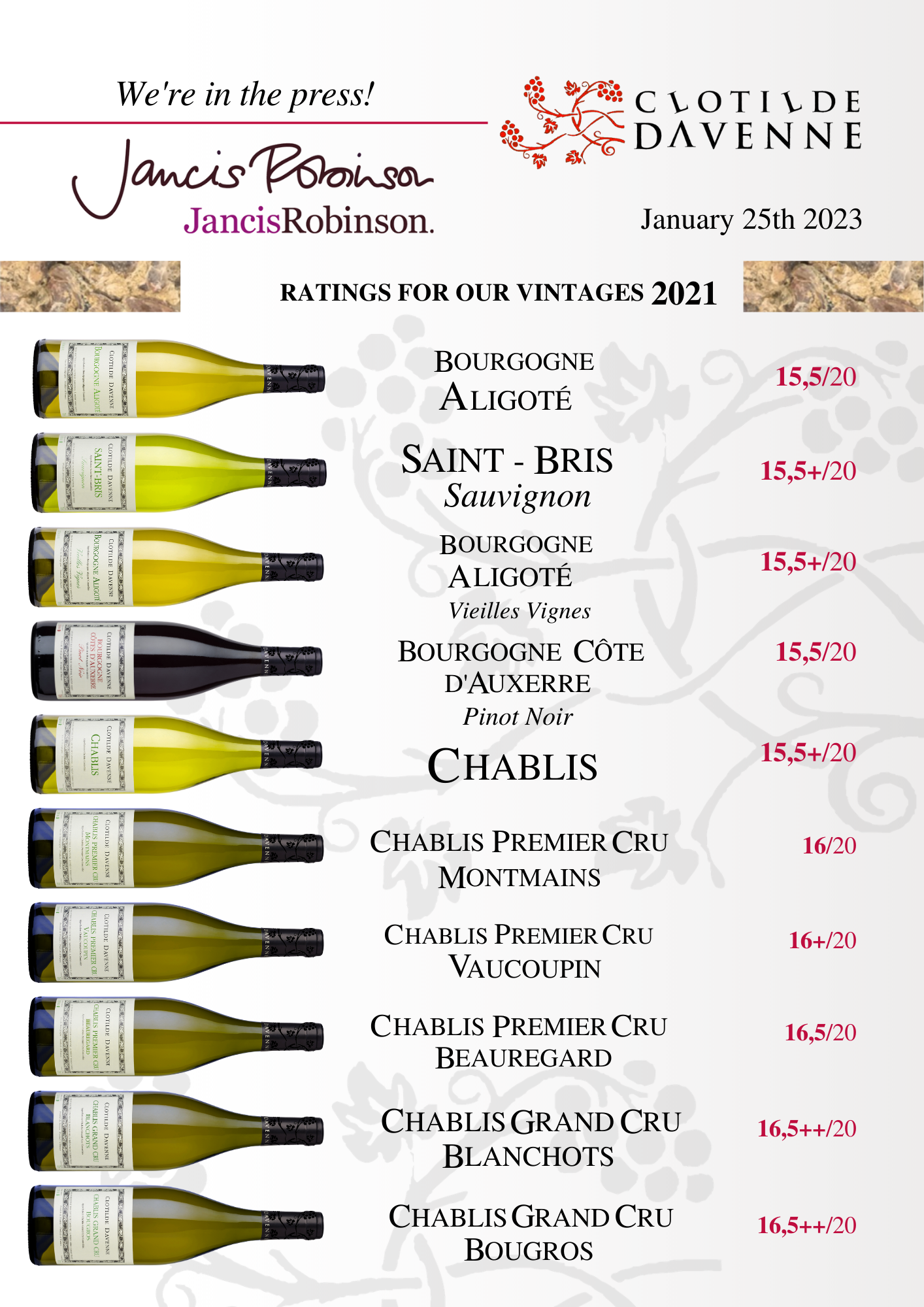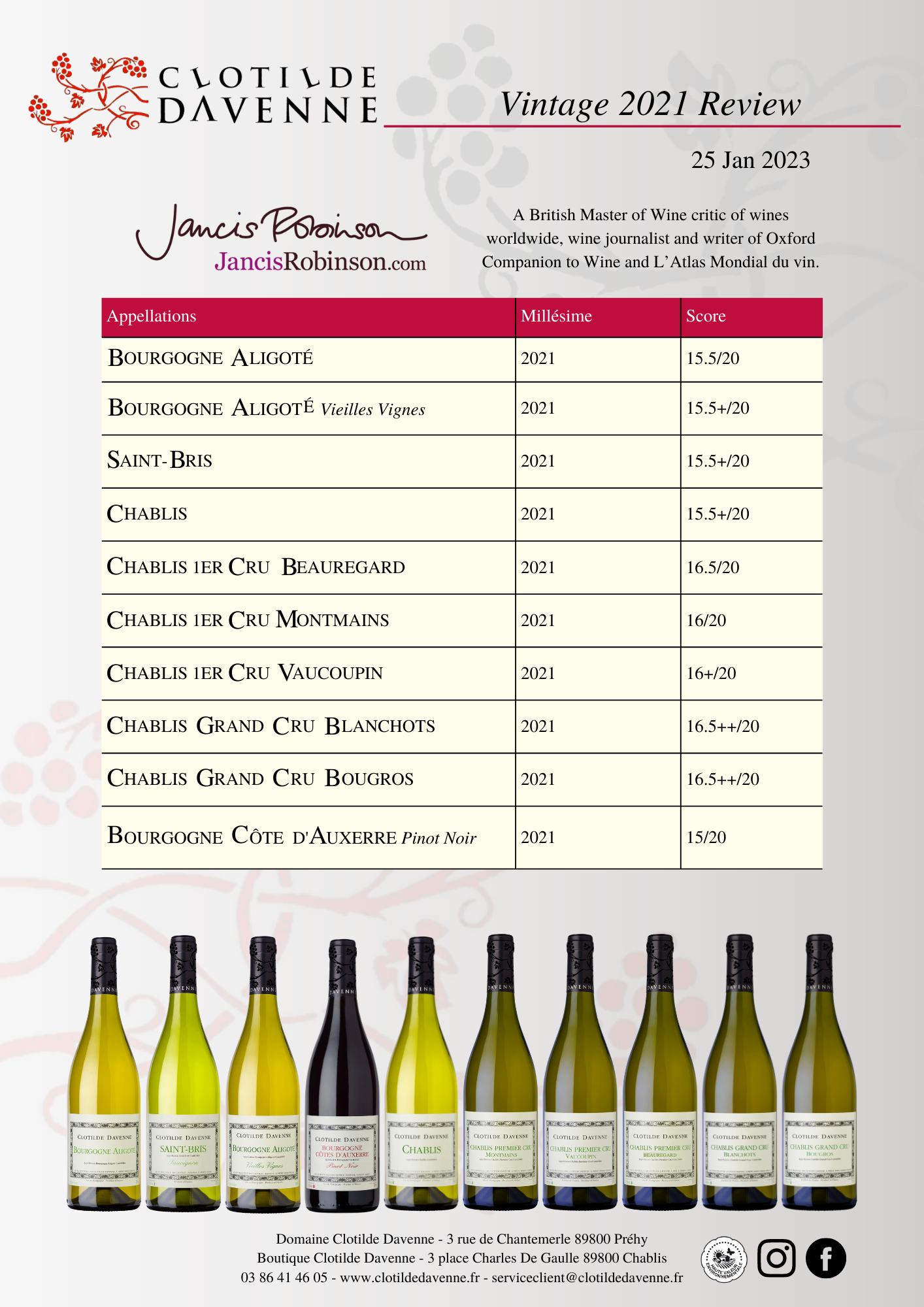 Matthew HAYES Jancis Robinson.com
A french wine journalist, Master of Wine student, and founder of Albion Vins Fins, Italian wine importer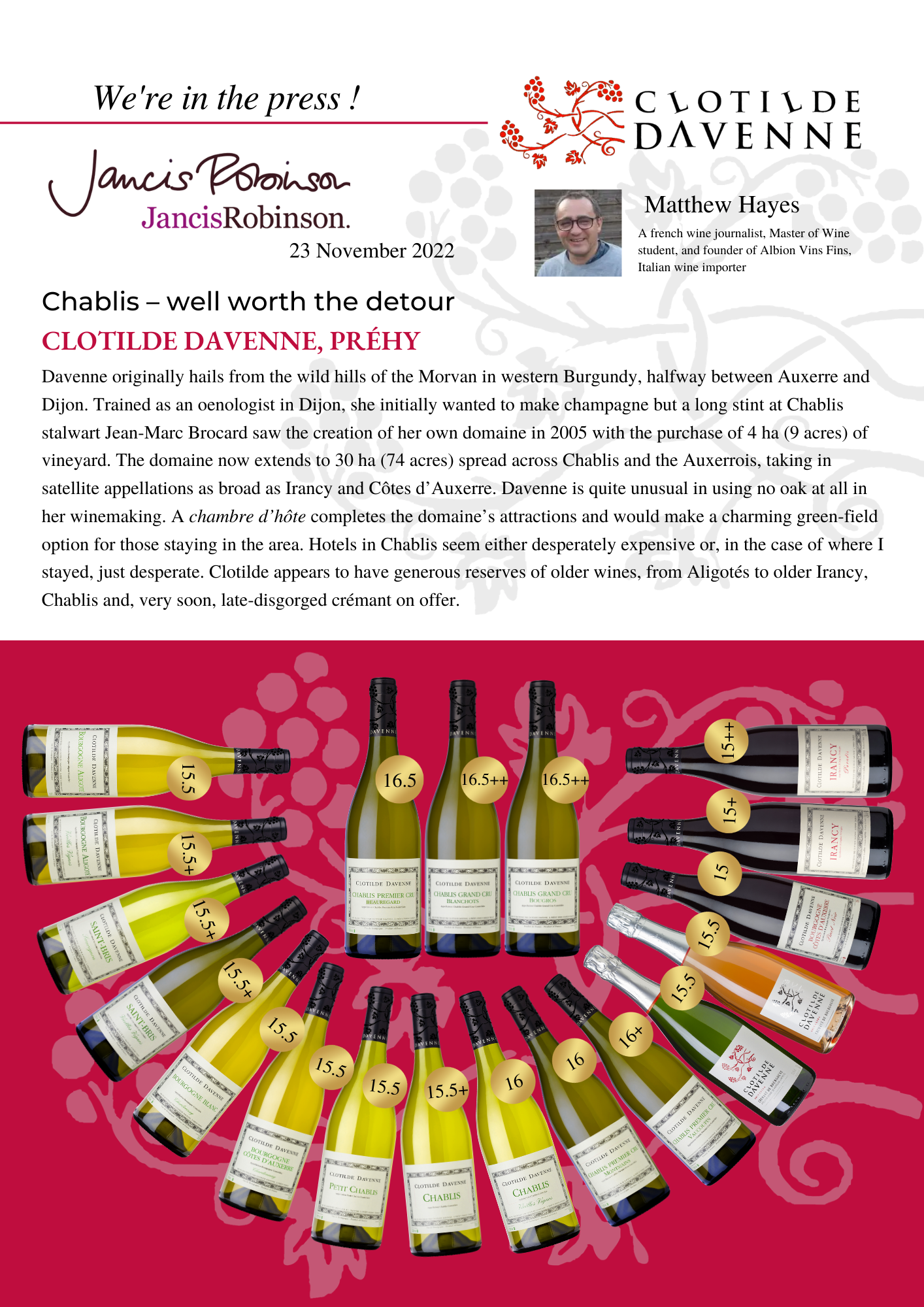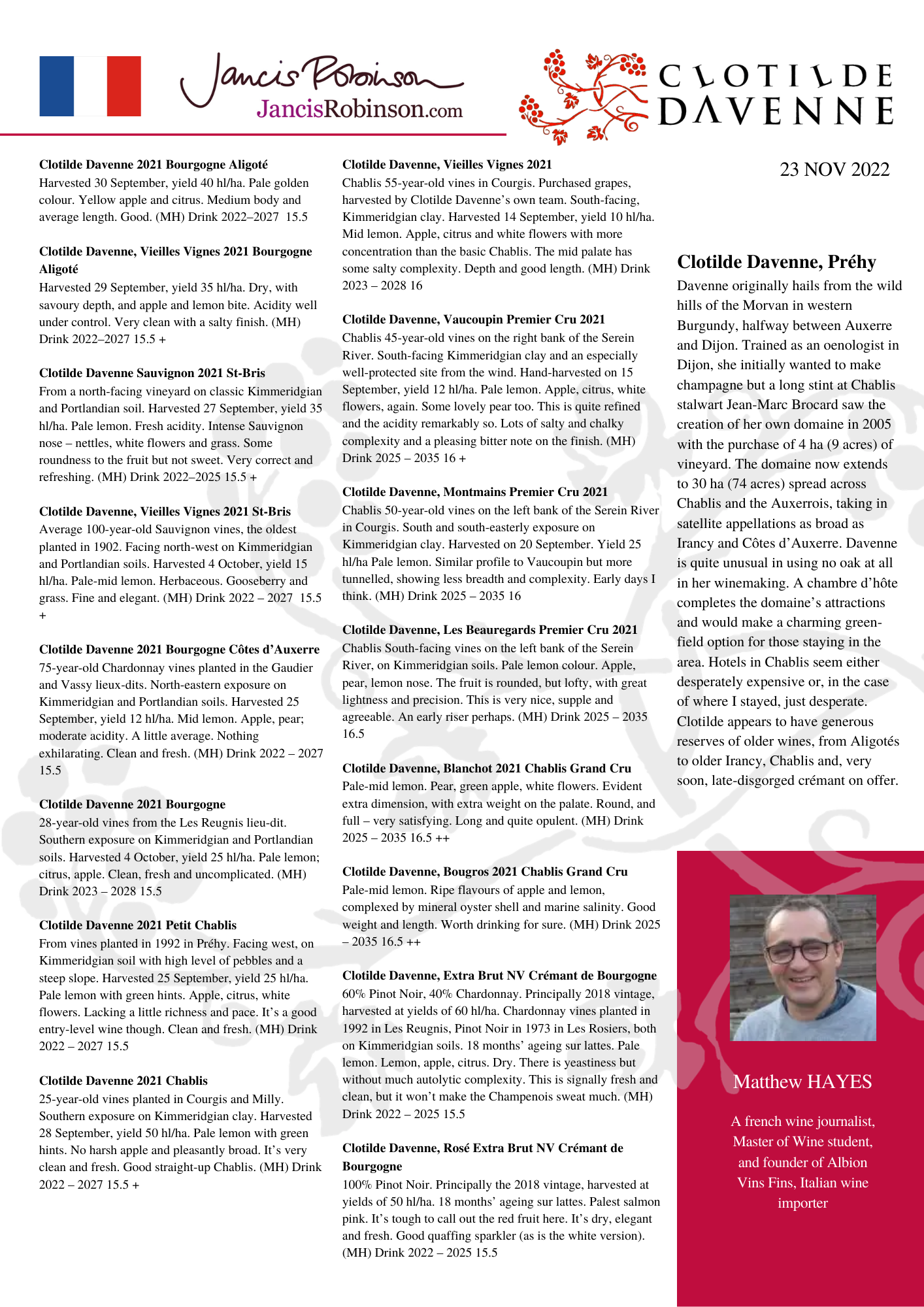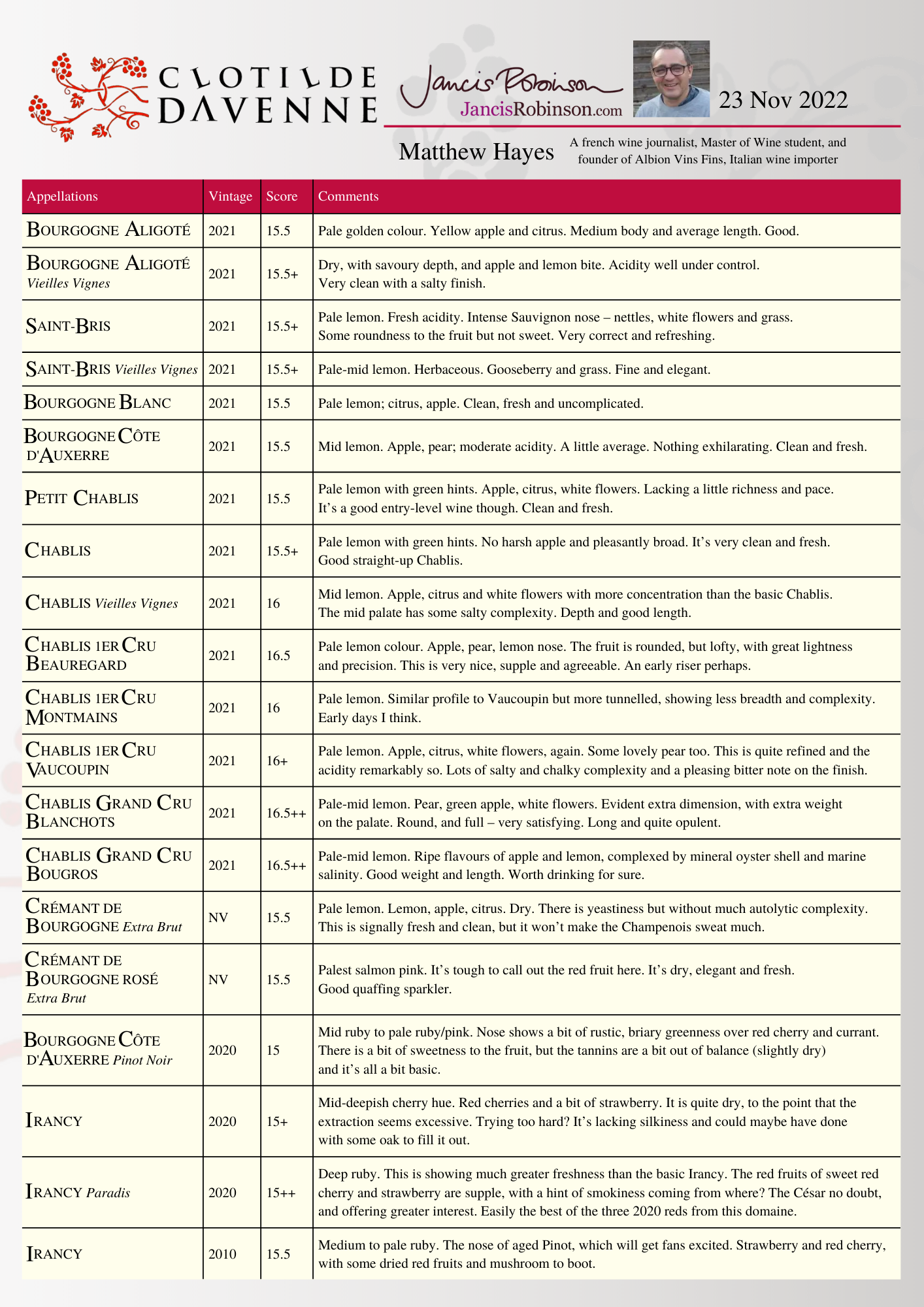 Aperitif December 2022
Aperitif.no is Norway's largest food and beverage website with a number of unique services based on high editorial expertise
Vinum October 2022
One of Europe's leading wine magazines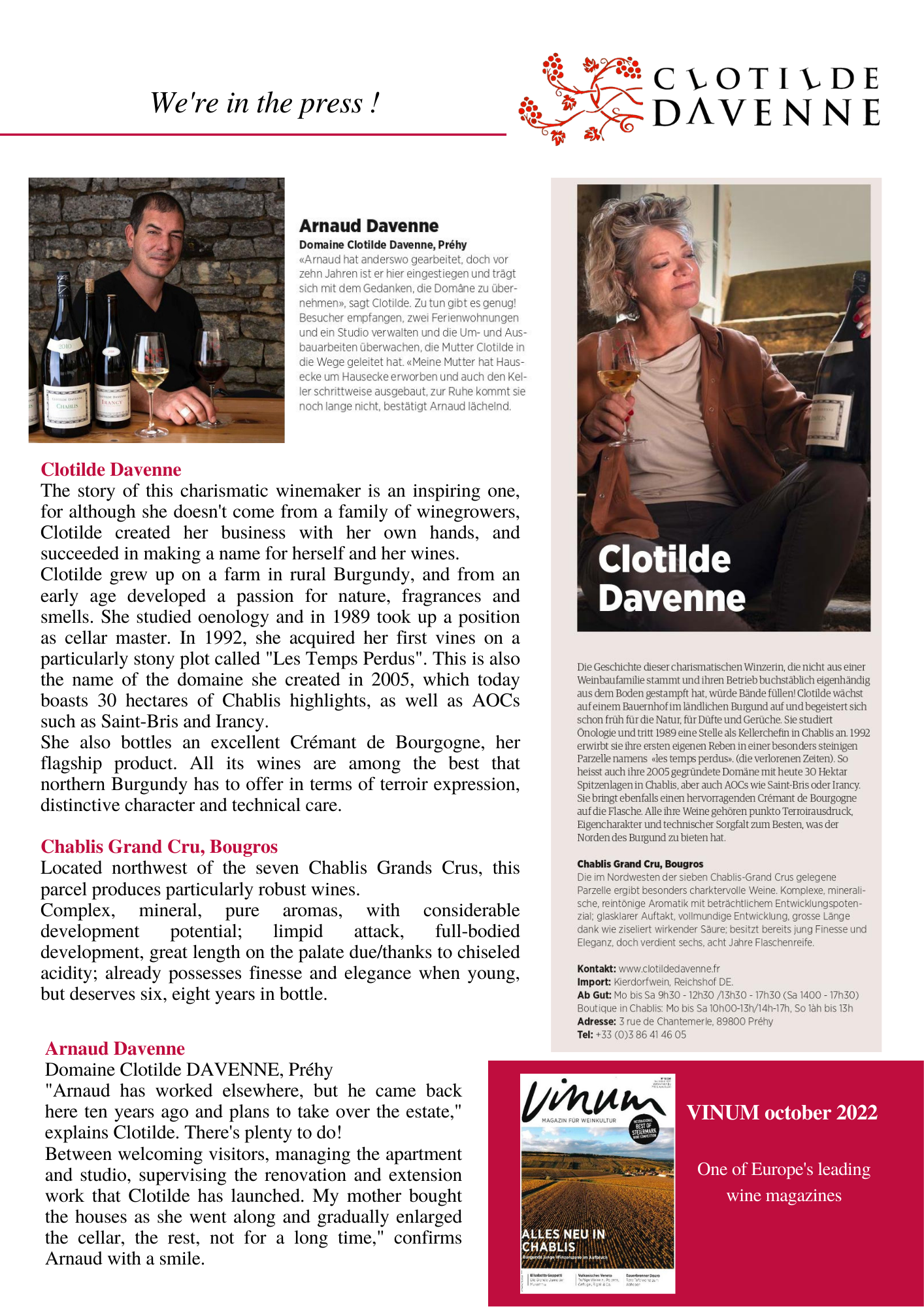 Allen Meadow's Review october 2022
Burghound.com the utilmate Burgundy reference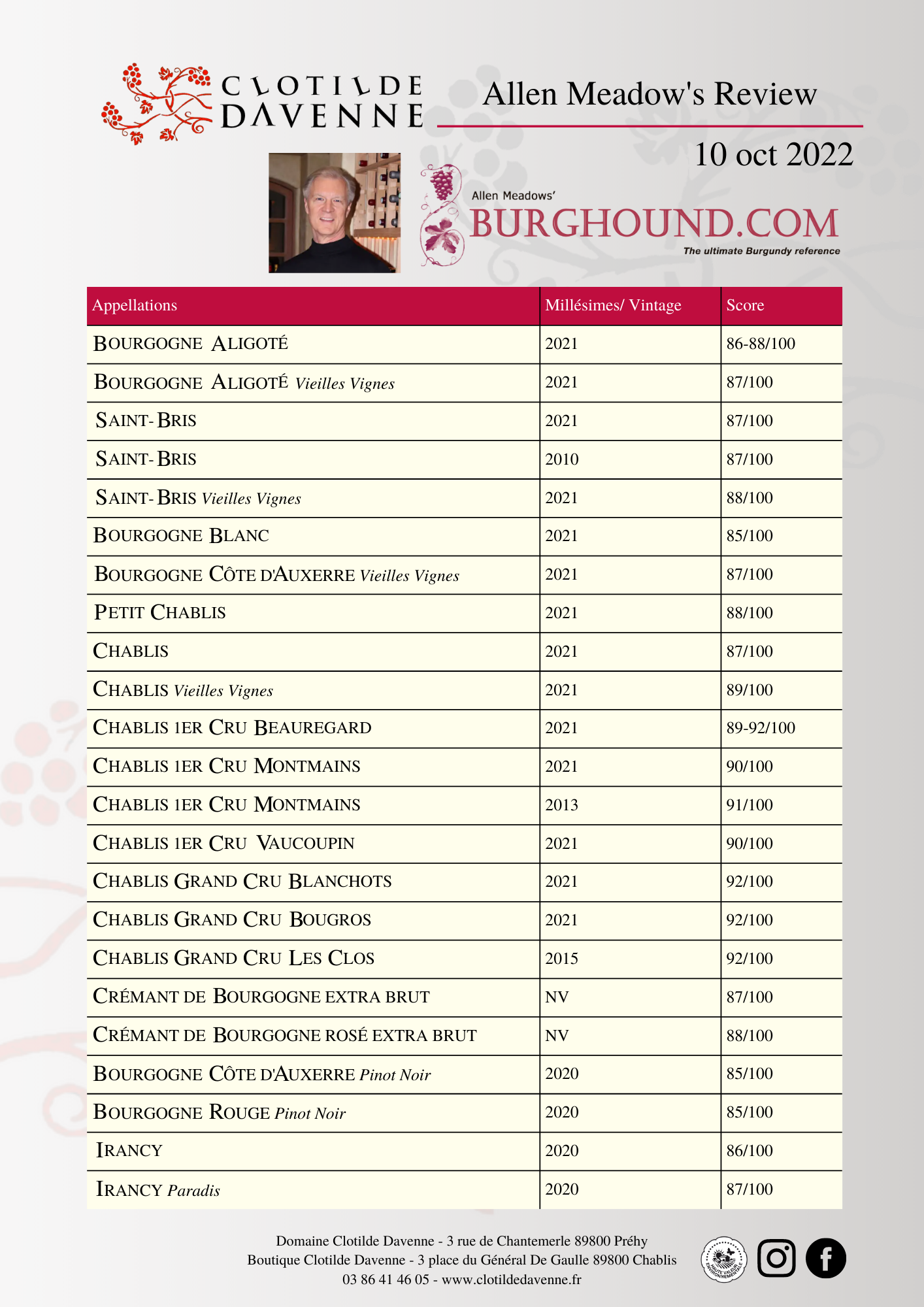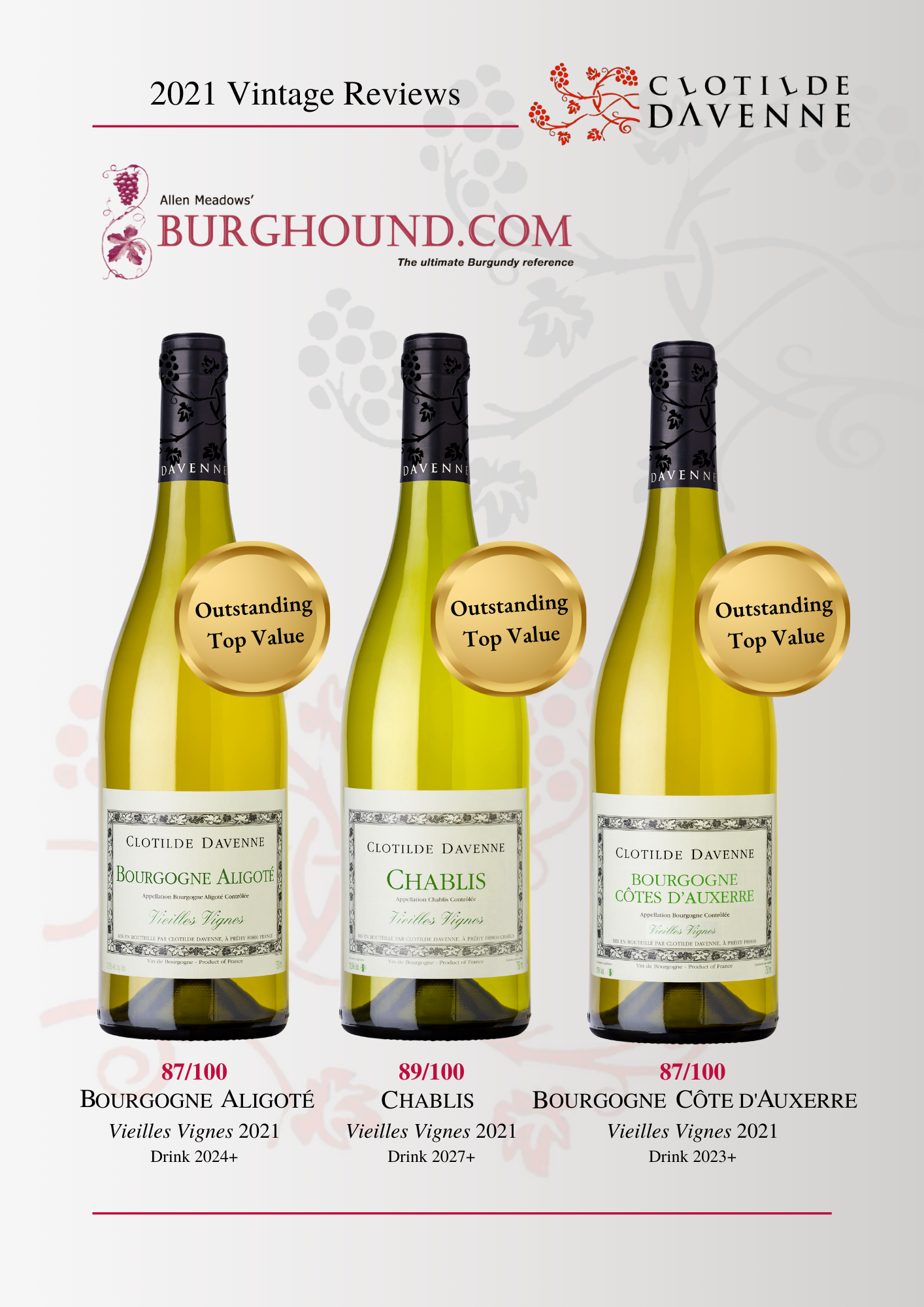 ALLT OM MAT Magazine - November 2022
a Swedish gastronomic magazine, published by Bonnier Magazines & Brands, launched in 1970.
It is the first culinary magazine on the Swedish magazine market, and is based in Stockholm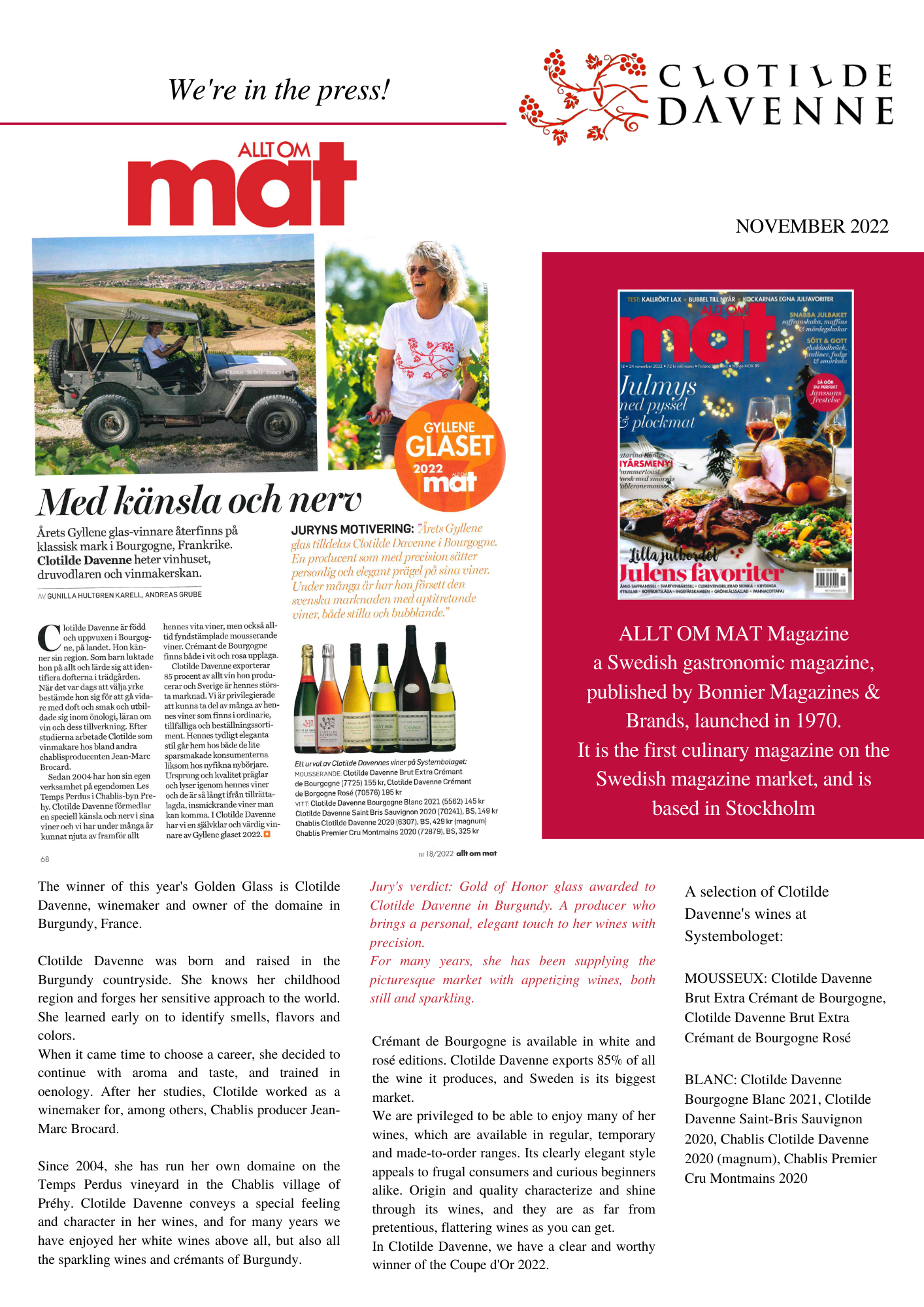 At the intersection of media and technology, Vinous is Antonio Galloni's vision of a modern-day wine publication. Vinous's team of renowned critics and writers offers in depth coverage of new releases, retrospectives and verticals of older wines, videos with winemakers, interactive maps, restaurant recommendations and more, all published in a continual, daily stream of articles.
Neal Martin is a wine critic and author based in the UK. He reviews the wines of Bordeaux, Burgundy, South Africa, and New Zealand for Vinous.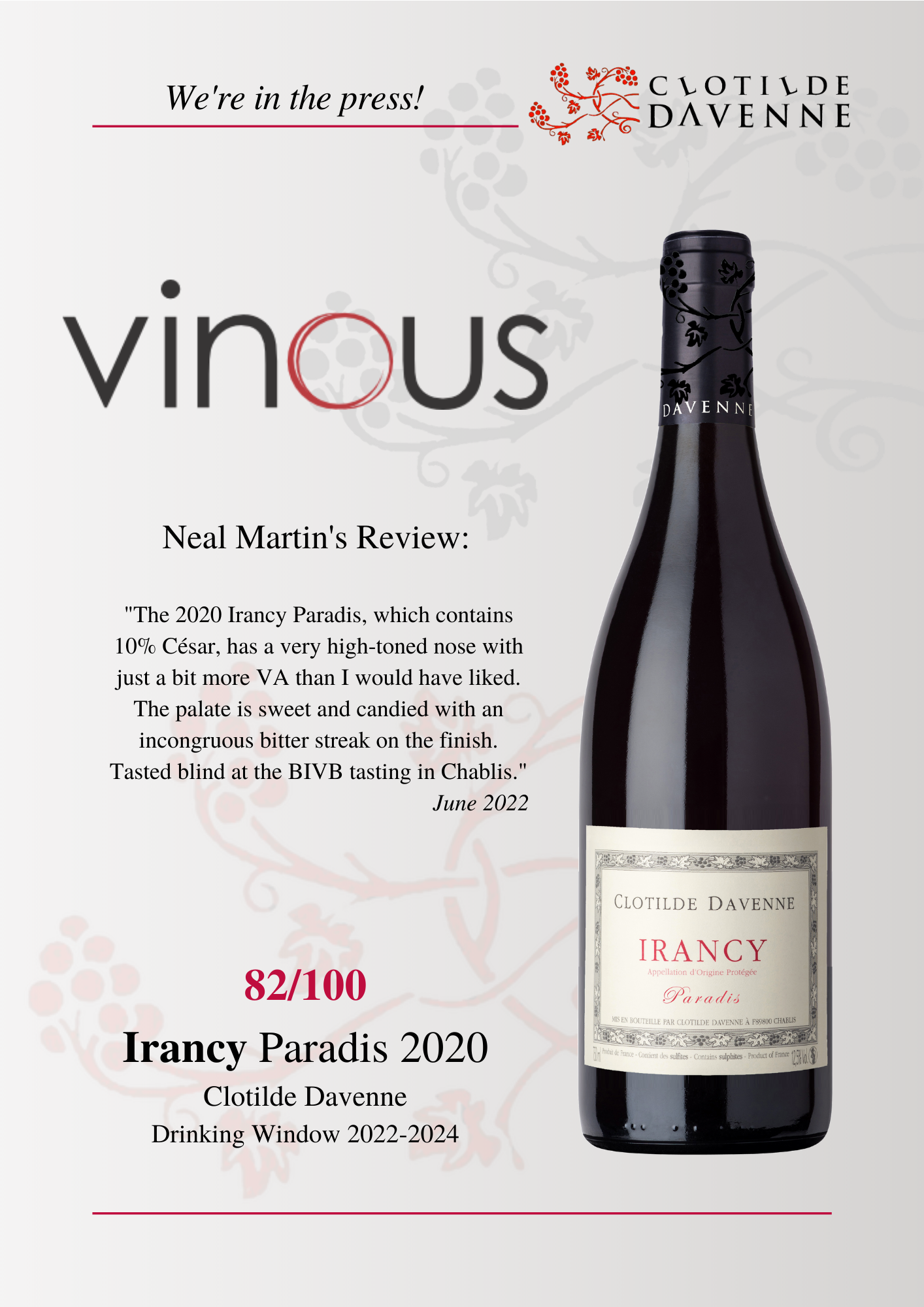 Michael Apstein Review april 2022
Prominent wine reviewer Dr. Michael Apstein—who curates his own wine review website "Apstein on Wine" as well as contributes a column to Wine Review Online—
recently sampled three of our latest releases. He filed the same review article on both sites.